Enchanted Forest - Ritual Bath Set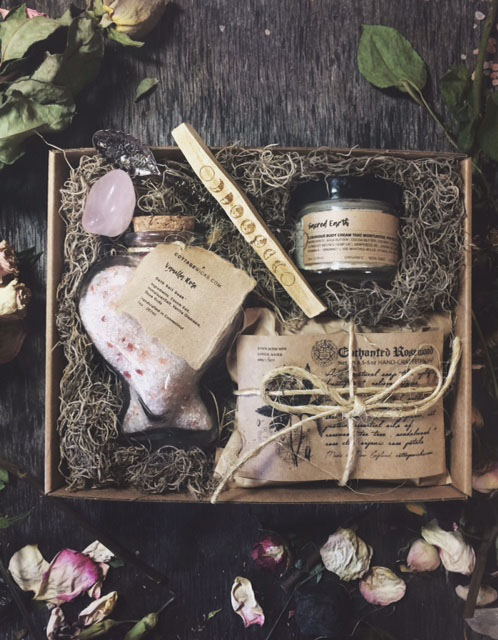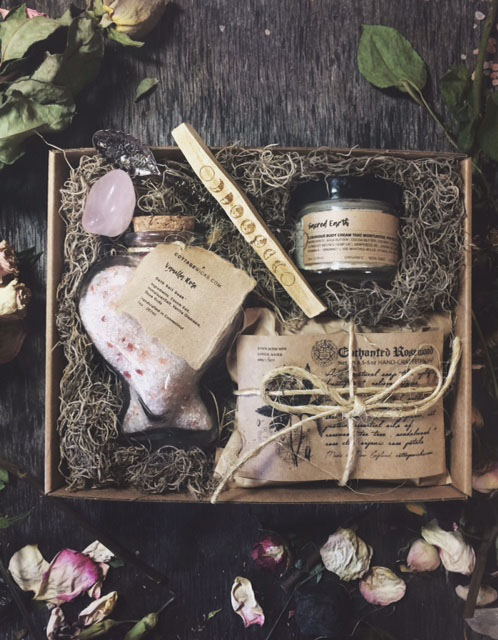 sold out
Enchanted Forest - Ritual Bath Set
Enchanted Forest Ritual Bath Gift Set is filled with self-loving witch-crafted items to bring you beauty and magick. Items come in a kraft box perfect for self pampering or to give as a gift!

In this Enchanted Forest box, you will find the following handmade items:
2oz sacred earth body cream
7oz vanilla + rose bath salts in a lovely heart shaped jar
gorgeous witches' spoon
palo Santo stick etched with the phases of the moon
large rose quartz crystal
The Ritual: Set your intention by lighting the palo Santo stick, allow it to burn for about 35-45 seconds then blow it out. Run the bath, with your witches' spoon pour in your bath salts, place your rose quartz crystal in the tub, and bathe with your enchanted rosewood soap. Soak and relax. Close your ritual by placing your rose quartz, and palo santo stick on your alter to remind you of your intention.
Love & light!
Sacred Earth body cream
A luxurious body cream that moisturizes, protects + hydrates skin. A little goes a long way!

Ingredients: organic shea butter, organic cocoa butter, organic coconut oil, (organic mugwort, organic rose petals, organic lavender flowers) infused hemp oil, organic grapeseed oil, organic jojoba oil, essential oil blend
VEGAN
NON-GMO
ORGANIC
Vanilla + Rose bath salt soak
Our Replenishing Salt Soak is scented with vanilla oleoresin. Himalayan Sea Salt + Epsom salt are rich in minerals that are essential for healthy skin such as magnesium, calcium, and potassium. Additionally they have been found helpful in removing toxins, stimulating circulation and soothing sore muscles.
ingredients: epsom Salt, himalayan salt, vanilla oleoresin, organic rose buds