Sacred Earth - Body Cream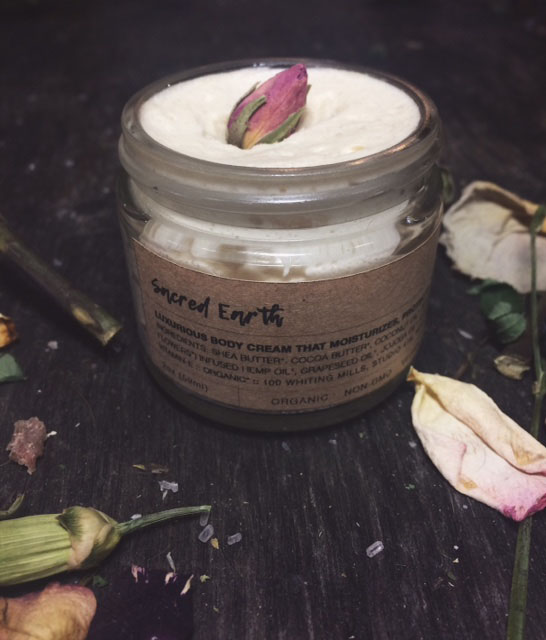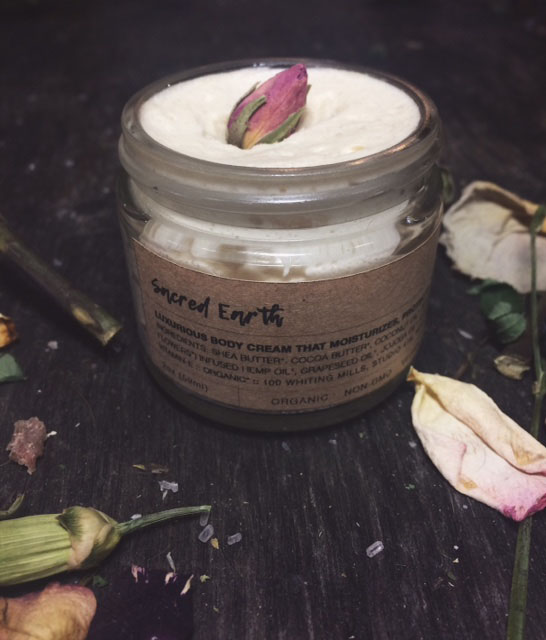 sold out
Sacred Earth - Body Cream
Soft, creamy and nourishing. A rich luxurious body cream that moisturizes, protects + hydrates skin.
Sacred Earth is packed with vitamins A, E, omega 3 and omega 6, making this butter an excellent natural emollient and moisturizer for dry and sensitive skin.
Ingredients: Shea butter, cocoa butter, coconut oil, hemp oil, jojoba oil, and essential oils. Solar-Infused mugwort, rose petals + lavender. Topped with a rose bud.
Shea butter is known to be a "skin superfood" that nourishes skin to promote its clarity and addresses problems such as dryness, blemishes, dark spots, discolorations, stretch marks, and wrinkles without clogging pores. It is incredibly healing, nourishing and moisturizing for skin. Packed with Vitamins A, E + F
Cocoa butter works to naturally soothe dry, sensitive skin while reducing and preventing the appearance of scars and unwanted marks.
Coconut oil is another superfood loaded with antibacterial and antifungal properties. It moisturizers while getting rid of dead skin cells.
Jojoba oil is full of nutrients like Vitamin E and B, as well as antioxidants and minerals like chromium, copper, and zinc, which all nourish and protect the skin. It also has antibacterial properties that help and acts as an anti-inflammatory agent, soothing irritated skin.
Hemp oil regenerates and energizes the skin's protective layer. Due to its high content of omega 3 and omega 6 fatty acids, hemp oil has a composition similar to skin lipids, which makes it an excellent natural emollient and moisturizer. It is especially useful for dry, tired or dehydrated skin and nails.
VEGAN, Non-GMO, CRUELTY-FREE, NATURAL, NON-TOXIC
WE DO NOT TEST ON ANIMALS!
2oz glass jar with gorgeous label